If you're planning a holiday for yourself, you might also be thinking about your cat's accommodation. After all, you'll need someone to look after them whilst you're away.
If you're considering The Great Catsby as your cat's holiday home, you'll probably have a few questions about the booking process. This straightforward guide will take you through how to check availability, make a booking, and prepare for a stay.
Check availability
Before you think about making any booking you might want to check to see if your dates are available. You can always send an email to ask about your dates but if you're wanting to make a decision quickly then you might not want to wait for a response.
The quickest way to check availability at The Great Catsby is to head over to the online calendar here, thegreatcatsby.co/availability. The calendar is updated regularly and you can see at a glance which dates are available or unavailable.
Custom HTML/CSS/JAVASCRIPT
Make a Booking Request
The simplest way to request dates and make a booking is by filling in the form here, thegreatcatsby.co/booking. This form contains all the information I need to add you to the system and proceed with the booking. It also allows you to choose your arrival and departure times from a selection of timeslots.
This request form doesn't automatically confirm your booking or secure your dates as dates are only removed from the system once bookings have been confirmed. This means that occasionally, although the dates may be showing as available on the calendar and on the booking request form, they may have actually been reserved but I'm waiting on a deposit to secure the dates. If this is the case I'll let you know, and update the system as soon as the dates are secured.
Custom HTML/CSS/JAVASCRIPT
Securing your dates
If your booking request is successful I'll send you an email, with the details provided on the booking form, asking you to confirm you still want the dates. Within the email, there'll be information about how to secure your dates, how to access your online account and a link to download the welcome pack, if you haven't already done so.
In order to secure your dates, a deposit is required within 48 hours. Due to demand at The Great Catsby I can't hold dates without a deposit. Deposits can be paid via Bank Transfer or online, through the link in the email.
Visiting The Great Catsby
If you haven't already been to The Great Catsby you are more than welcome to come and have a look around. In fact, I always insist on looking around any cattery as there's nothing better than a gut feeling. And if you visit and like it, your cat will too! To arrange a visit to The Great Catsby and chat with me about your cat, click here.
All visits are by appointment only because, as there's only me here, I would hate for someone to turn up when I'm not available. On top of looking after the cats and making sure they're all happy, I may also be dealing with a customer (or cat) or preparing for a new arrival or even out collecting my kids from school. I like to make sure that every visitor has my undivided attention to ask any questions without feeling rushed. I also like to make sure that any newcomers, that may be feeling uneasy with the change in environment aren't disturbed too much by people in and out of the cattery.
What happens next?
Once your booking is secured you'll get a couple of emails from me, usually around 3 weeks before your stay and a couple of days before your stay. These emails will give you more information about what to expect when you arrive along with a checklist in order to prepare for your cat's holiday.
What if you want to change your booking?
I know that plans change and you may need to amend your booking or cancel it completely. All this can be done through your online account, just log in (details were in your first email) and let me know what changes you need to make. Keeping it within the system means that nothing gets lost or ends up in a spam box!
The terms and conditions of the booking are included in the initial email, asking you to confirm your booking and secure your dates. Cancellations with 14 or more days' notice can be transferred to a future booking or held as credit to be used within 12 months. Or a refund will be given for the deposit, however, there is a £25 admin fee payable which is taken from the deposit.
If you decide to cancel your booking 13 days or less before they are due to arrive then no refund or transfer of funds will be given. With short notice, it's unlikely that I will be able to rebook the rooms.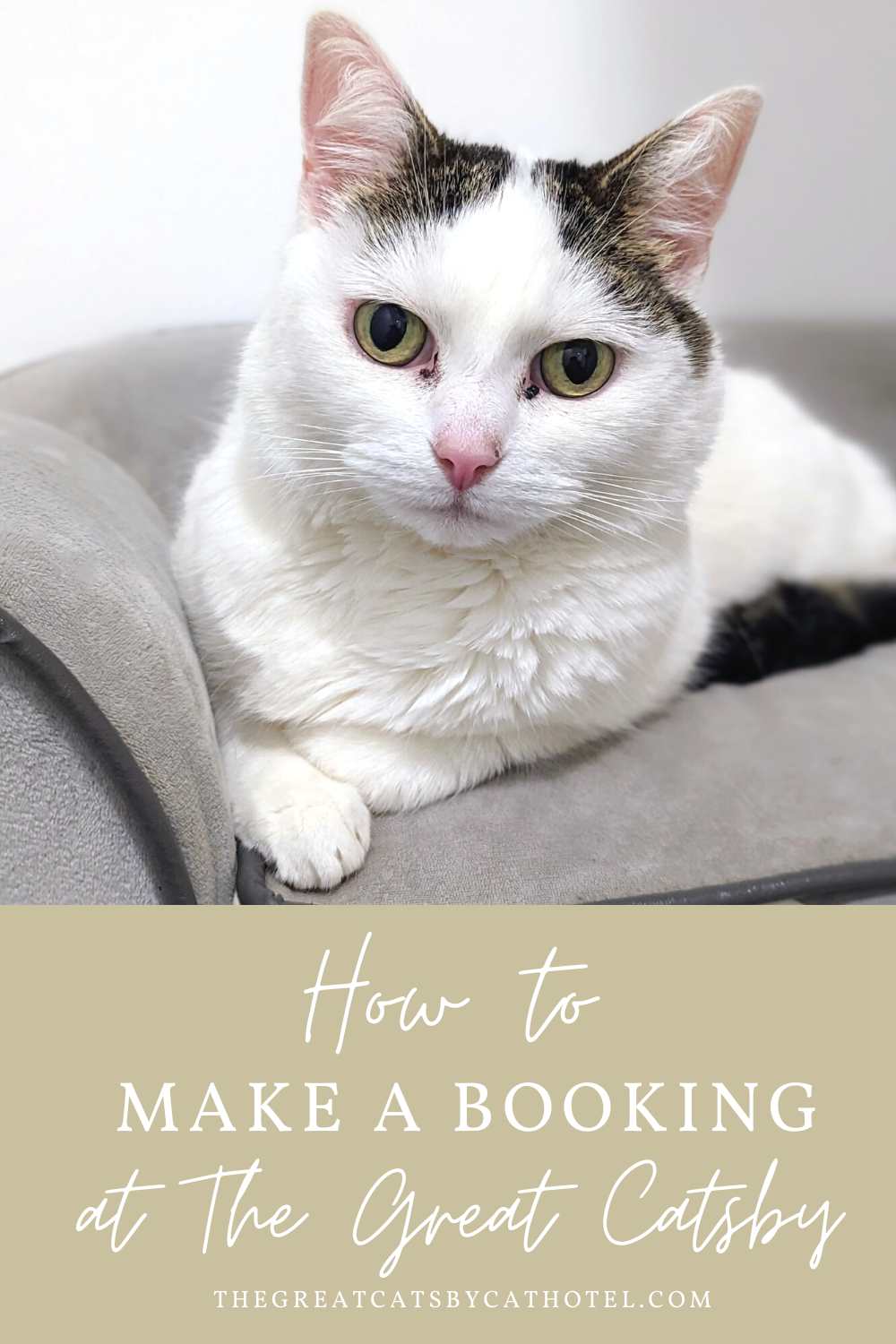 Now that you know how easy it is to make a booking to the Great Catsby, what are you waiting for? Fill out the booking request form and when you receive your confirmation email you can secure your booking with a deposit to make sure no-one else takes the dates. And if you need to make any changes in the future, no problem! Just log into your account and adjust the dates or appointment times accordingly.

Click this link thegreatcatsby.co/booking to book your cats next holiday. I can't wait to see you all!