8 Questions to Ask When Visiting a Boarding Cattery
When you're thinking about using a cattery, you'll probably have lots of questions that you want to ask. The best way to find the answers is to visit them first and ask them. If you're not sure what you should be asking here are a few questions to ask when visiting any cattery.
Social media and websites are great for showing you pictures of the cattery and the cats that they look after. But it doesn't always give a true representation. Cattery owners will pick their best images to share with you. By taking time to visit gives you the opportunity to ask the owners and staff some questions and find out more about their setup, how they care for cats and how interested they are in you.
Are you licensed?
All catteries should be licensed with their local authority. Having a license means that they follow the strict regulations and standards set nationally by the UK government. And they are inspected against these regulations by their local authority. If a cattery isn't licensed, then there is nobody regulating them or making sure they're following the government guidelines for animal welfare.
When licensing a cattery, local authorities will inspect them and make judgments against a set of criteria. They will also grade catteries, and kennels, according to a star rating. A 5-star rating means that they have been operating a cattery for more than 3 years, and they are meeting and exceeding the government guidelines in relation to the standards. A one-star rating is obviously at the other end of the scale.
These standards and guidelines came into place in October 2018 under The Animal Welfare Regulations. The license number should, as part of the regulations, be displayed in the cattery itself and on any website. At The Great Catsby, my license number is at the bottom of every webpage and displayed on the wall at the entrance. In May 2022 The Great Catsby was awarded a 5-star rating with reinspection in 3 years. However, I'm confident I am still meeting and exceeding the standards needed for a 5-star rating.
If a cattery you are viewing is only a 3 or 2 star ask them about it. I'm sure they will be more than happy to tell you why they didn't meet the standards. In some cases it's age-related, not having the experience. But it might be paperwork and record-keeping, or staff numbers that hinder a higher rating. In most cases, it's not the actual care for the cats that gives them a lower star rating.
Who will be caring for my cat?
In larger catteries, there may be more staff which means that more people will be taking care of your cat. How will information about your cat be transferred - so they all know what your cat likes/doesn't like? If your cat is anxious around strangers, how would they cope with several people caring for them at different times of the day? Or is your cat a social soul? They will love the fuss and attention from different people. For smaller catteries, there's usually just one person - the owner. They will be spending all their time caring for the cats they have in. Think about how many cats they could have at the same time as your cat. If there are 40 cats and just one person to look after them all, how much time will they have?
At The Great Catsby, I am licensed for 20 cats within 7 rooms. At no point ever would those cats mix. Realistically, during busier periods I may have up to 14 cats in at any one time - 2 in each room. I do have the occasional 3 or 4 cats from one family as my rooms can accommodate up to 4 cats from the same family. But most people have one or 2 cats.
How much time will you spend with my cat?
This is one question I'm often asked, but for me, it's never an easy one to answer. Here at The Great Catsby how much time I spend with a cat varies depending on the cat. For younger kittens, especially ones that had very little socialisation during the lockdown, I spend as much time as possible with them. They're young, inquisitive, and have lots of energy so by spending lots of time with them I'm supporting their development. Similarly, I tend to spend lots of time with anxious cats. They need time and space to come to terms with what happened (i.e. stressful car journey, new home, new sounds, new smells, and a crazy lady that keeps talking to me). In the beginning, these need lots of attention to make them feel settled and secure. As the days go on they soon become more confident and start acting like they would at home. Some older cats I look after love to spend the day relaxing and snoozing. In between naps we will have a brush, have some fun with catnip, or I generally just sit with them so that they can curl up on my knee. When older cats have had enough of me they tend to take themselves off to bed so I know it's time for me to give them some space.
As part of my license, I record each cat's behaviour, toileting habits, feeding, and general health four times a day. Although I'm with them much more than that I only record morning, lunchtime, afternoon, and evening. This helps me pick up on any slight changes that I need to keep an eye on. It's also useful if any cat becomes unwell. I can show the vet when they last ate, had a wee and how they were over the previous days, etc. During these observational visits, I may also be feeding the cats, cleaning rooms or taking pictures for my updates.
For those that want some extra attention, I do offer additional 20-minute sessions of uninterrupted time where your cat gets all the attention. These are currently charged at £5 per 20 minutes session or £7.50 for two sessions. These sessions are tailored to your cats' needs and have proved to be beneficial, especially in helping new cats to settle in.
Each cattery is different. The time spent with your cat might depend on the number of staff and how many cats they have altogether. Or it might be that they do two visits a day as a rule. Think about how often you would want someone to be with your cat and ask them during your visit.
What do I need to bring with me?
All licensed catteries will need to see an up-to-date vaccination record. You'll need to show this before or on arrival. Some catteries will let you send a photograph of your vaccination record, as long as it shows your cat's name, what they were last given, and when. Others may prefer a phone call or email to your vets to make sure they are up to date with vaccinations. Some catteries may have different rules regarding vaccinations. Some may only accept cats 2 weeks after their vaccination/booster, whilst others may take cats immediately. The difference is mainly due to the setup of the individual cattery and the license conditions from their local authority. Find out what the catteries rules are regarding vaccinations.
Again, due to the different setups, some catteries may ask you to bring items from home such as a bed, a scratch post, or even food. Others may provide everything including bowls and litter so all you need to bring is your cat. Ask the staff about food, do you need to provide your own or is it included? Many catteries will stock the most popular brands of cat food but it depends on the cattery as they are all different.
At The Great Catsby, I have a range of beds and scratch posts in every room. Litter is provided as well as all food and water bowls. I'm more than happy for people to bring their own items in if they wish, something from home can bring some familiarity to your cat. However, I won't use any plastic bowls from home. Plastic tends to hold smells and is often difficult to fully clean and disinfect. Any scratches can harbour bacteria, and although I thoroughly clean all equipment daily it's safer and more hygenic to use ceramic, porcelain, or metal food bowls.
What will my cat eat?
Some catteries may provide a range of popular foods so they may have the one your cat likes to eat. Others may ask you to provide your own food as they have nowhere to store excess food items. Either way, it's good to find out just what and how often your cat will be fed.
At The Great Catsby, I like to stick to the same routines at home where possible. So if your cat is fed 4 small meals throughout the day that's what I'll do. If they like to have a treat at bedtime, that's what I'll give them. I stock many of the popular cat food brands including Felix, Whiskas, Sheba, Gourmet Perle, Purina One, Iams, James Wellbeloved, Go-Cat and Whiskas (dry). I also have Greenwoods in Chicken, Chicken and Cheese, Tuna, Tuna and Shrimp. Greenwoods is a complementary food with a high meat content (70%) similar to Applaws or Encore. I'm also more than happy for cats to bring their own food, especially diet, breed, or vet-prescribed foods which I can't stock.
How will you deal with my cat if they...?
This is a great question to really find out how much your cat will be cared for whilst you're away. Whatever issue or concern you have about your cat, ask them what they would do. Your cat might be
Anxious,

Semi feral,

Diabetic,

Blind,

Asthmatic,

Not used to being alone/away from home,

Not used to a litter tray or have problems toileting in unwanted places,

FIV,

Aggressive towards other cats and/or strangers,

A 12-week-old kitten,

A 19-year-old cat

Or anything else you know about your cat
Whatever the concern is chances are the cattery has probably seen it all before and dealt with it. They may relate to previous cats they've cared for with similar concerns. Listen to what they say, would you be happy if they did that with your cat? However, they might say they are unable to look after your cat at this time. It might be that staffing is an issue or they need more training before they could look after your cat. But it's much better to find this out during a visit than come back to an unhappy cat and cattery owner. I have had to turn down looking after cats as I wouldn't have been able to give them or the other cats in my care the full attention they deserved. One particular cat needed an injection every 4 hours and they were hoping to go away in August. But it wasn't feasible for me, being the only one to look after all the cats along with my two young boys during the school holidays I physically wouldn't have been able to accommodate that cat at that time. But other catteries may be better equipped with more staff to take the load.
Will I be able to see how my cats are getting on whilst I'm away?
During your visit ask them if you'll be able to find out how they are getting on. Some catteries might ask you to ring every few days. Others may have webcams so you can log in and see them any time day or night. Other catteries may post a picture on Social Media so you can see them.
At the Great Catsby I send updates to everyone with pictures so that they can see how their cat is doing.
I'm worried about leaving them
Okay, strictly this isn't a question but more of a statement but it's usually how lots of cat parents feel. It's not unusual to feel worried or scared about leaving your cats in a cattery. In fact, if it's the first time you've left them I'd be more concerned if you weren't worried. You are putting your trust in someone else, in most cases a stranger, especially if this is the first time. You want to know that you're doing the right thing for your cat. You need to be reassured that your cat is in the best possible place for you and them. So be honest, during your visit tell them how you feel. If you've seen something that you're not quite sure about, ask them. If you have concerns tell them. In most cases, they'll be able to help you or give you tips to prepare. Leaving your cat, whether it's the first time or the tenth time is always a worry. But if you're prepared and know what to expect from the cattery then you're halfway there.
There may be more questions you want to ask when you get there like
What are their opening times?

What happens if you need to cancel?

Do you need to pay a deposit?

What happens if my cat gets ill?

And anything else you can think of...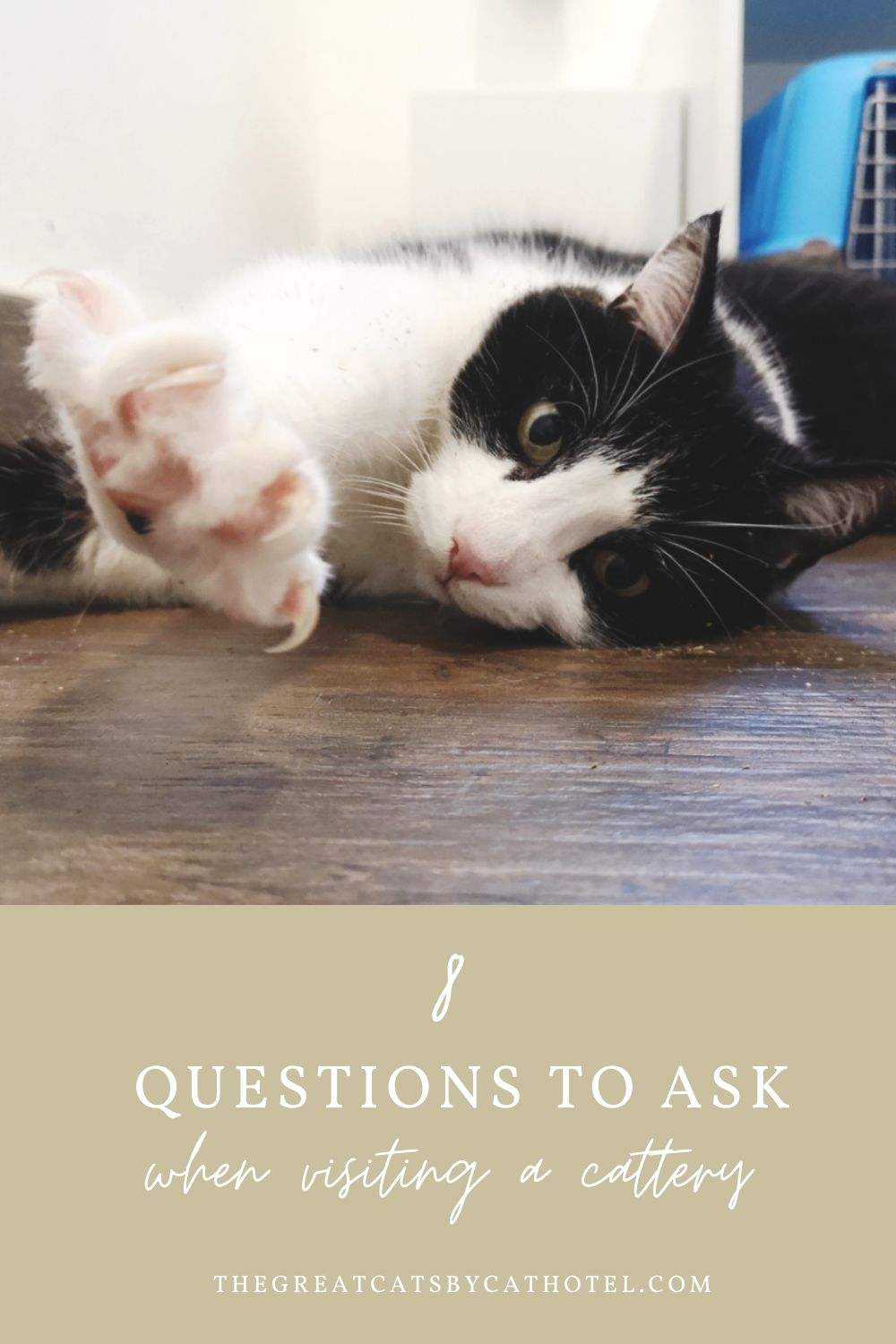 If you have any questions about The Great Catsby then get in touch, I'd love to hear from you...and maybe I could add them to the list.
Custom HTML/CSS/JAVASCRIPT
---
Want to know more about The Great Catsby?
Sign up here and I'll send you the welcome pack. This contains everything you need to know about The Great Catsby including how to arrange a visit.