Custom HTML/CSS/JAVASCRIPT
10 Things to Consider When Choosing a Boarding Cattery
Do you worry about who would look after your cat if you went on holiday? There are a few options but you need to choose one that's right for you and your cat. You might decide to have a family member stop by to check in and feed them every day. Or you might not like the idea of someone coming to your house, so a boarding cattery would suit you better.
However, when it comes to boarding catteries they all vary. And chances are, if you haven't been to one in a while then they may have changed a bit. In 2018 the government set out the standards that boarding catteries should meet, if not exceed, for looking after cats. But that doesn't mean they're all the same.
Boarding cattery owners, as much as they love cats, will all have their way of working so it's best to do your research and choose one that's right for you. But where do you start? A quick Google search could help but before you make any decision about a boarding cattery there are a few things you should consider.
Custom HTML/CSS/JAVASCRIPT
Make a list
Before you consider any boarding cattery decide how far you're willing to travel. If you set your boundaries now then it'll narrow down your search and you won't get lost looking at ones that are too far away. Think about your cat, how well do they travel? If they're not great then you may be looking for a local boarding cattery. But if they're usually fine then you can look further afield.
Now you've set your limits do a search for catteries within that area. Make a list of all the ones you would travel to. You don't need to look at their websites or Social media pages yet, just write down all their names.
Ask for recommendations
Recommendations are a great way to narrow down your list. Hearing other people's experiences will give you a better idea of what to expect. Plus, if you know the person giving the review you'll know their level of standards and you're more likely to trust their opinion.
If you don't know anybody personally who has used a cattery then ask in your local Facebook groups, at the vets or even at your local pet shop. People love to give their opinions…but you might need to delve a little deeper and look for yourself.
Look at the reviews
Like recommendations, reviews can give you a better idea of how the boarding cattery operates. Using your list of potential catteries have a look at the reviews. Google, Facebook or Find Pet Boarding is a great place to start.
What are the majority of reviews saying? How does it make you feel? Is there any that you definitely wouldn't consider after hearing people's views? Or are there any that are worth looking at? Narrow down your list of catteries to consider.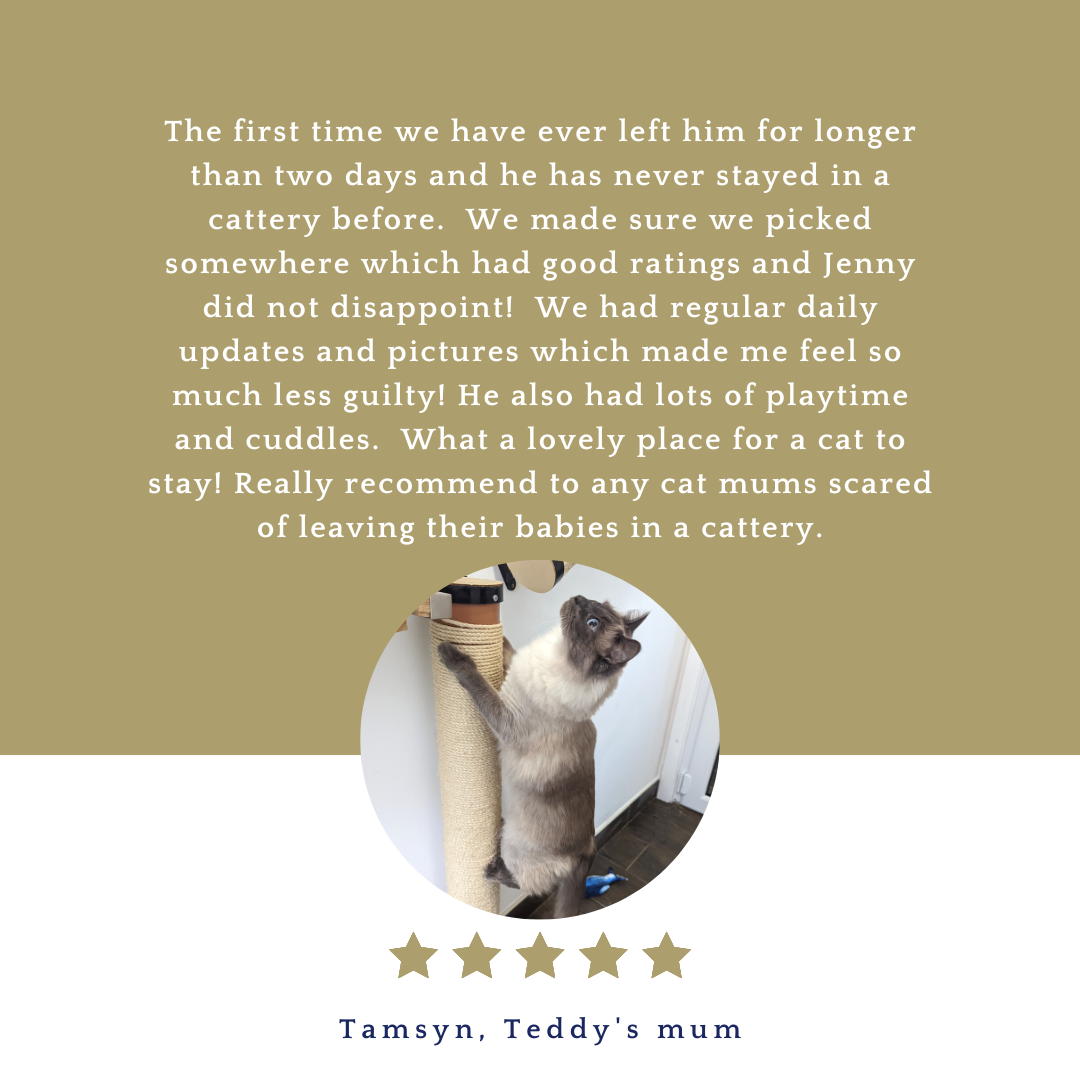 Do some research
Now you should have a few catteries on your list that you want to look at more closely. So let's dig a little deeper. Here are 10 questions you should consider before choosing a boarding cattery to look after your cat, although there are plenty more you could ask.
Do they have a website? How does it make you feel?

Are they licensed? All boarding catteries (and kennels) within the UK are regulated and inspected by their local council. Their license number should be visible on their website.

Do they allow viewings? Can you arrange to go and have a look around? There's nothing better than a gut feeling…plus you can ask any questions face to face.

Would your cat be safe and comfortable in their set-up? Would they have all the attention they need or would they get bored?

How they would cater to your cat's needs

What do they charge? And what does it include? Is this within your budget? If not then cross it off.

Are your dates available if you were to book your cat in?

What would happen if your cat got ill whilst at their cattery? A licensed cattery should have a plan in place and explain this to you.

Can they give medication?

Can you find out how your cat is getting on whilst you are away?

What would your cat need in order to stay there? All licensed catteries will ask for your cat's latest vaccination record but some may want you to bring other items from home.
Can you find all the information you need in order to make a decision? If you still have questions and have already visited then ask for a second visit or send them an email. And if you've not been in person then arrange a visit.
Make an informed decision
When you're considering a boarding cattery you should take your time and do your research. The last thing you want to do is book your cats somewhere and then turn up and realise it isn't like their website or what you expected. The Cats Protection has some additional questions to consider when choosing a cattery, you can find them here.
But, having done your research and having asked all the important questions you should be able to make an informed decision and choose a boarding cattery that's right for you. You'll want to be able to trust that your cat is being cared for just as it would with you at home. And you'll want your cat to feel loved, safe, comfortable and happy even when you're not there.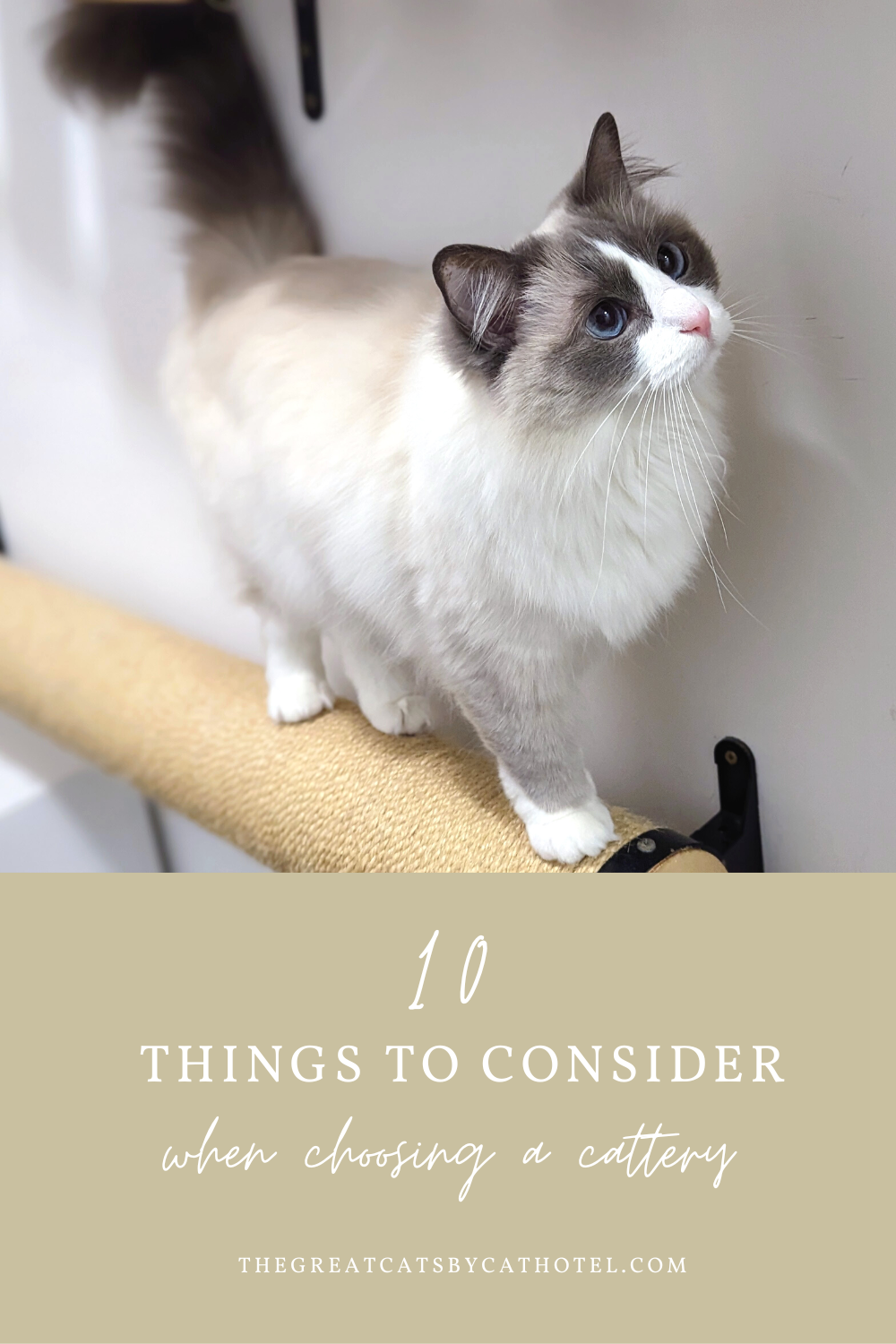 If you're considering The Great Catsby to look after your cat then feel free to download my Welcome Pack. This contains everything you need to know about The Great Catsby including how to arrange a visit.
Custom HTML/CSS/JAVASCRIPT
Custom HTML/CSS/JAVASCRIPT